Hawaii mistakenly sent an alert broadcast that a ballistic missile is incoming...




Breaking911
@Breaking911
Video From Hawaii Shows Children Being Placed Into Storm Drains After False Alert Sent Out About Missile Strike


Sara Donchey
@KPRC2Sara
This was my phone when I woke up just now.
My family is on the North Shore. They were hiding in the garage. My mom and sister were crying.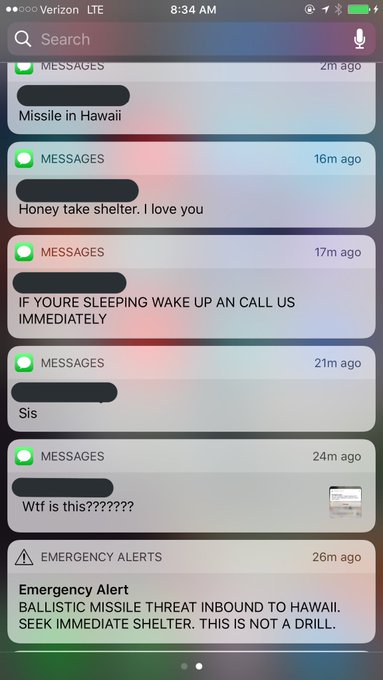 EndGameShow
@
Endgame
ShowWW3
It took
38 mins
for the Hawaiian govt to put out a retraction and say this was a mistake, unsatisfactory!
Tulsi Gabbard
HAWAII - THIS IS A FALSE ALARM. THERE IS NO INCOMING MISSILE TO HAWAII. I HAVE CONFIRMED WITH OFFICIALS THERE IS NO INCOMING MISSILE.