by
Published on 09-01-2012 09:20 PM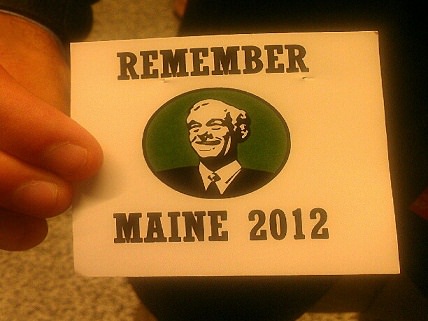 Vic "The Politics Guy" Beradelli, co-chair of the Maine RLC and Penobscot State Committee, said this in an e-mail that went out to some:

"These are the resolution votes at today's special meeting of the Maine GOP State Committee. They were amended to past tense because they were submitted originally for special meeting prior to the Republican National Convention which Webster managed to put off until Sept. 1, after RNC ended.

Resolution to express displeasure that the duly-elected delegates to RNC were not seated and expressing displeasure that the State Chair did not intervene on their behalf passed 45-21.

Resolution calling the challenge filed by outgoing-National Committeewoman Jan Staples and Maine Romney Chair to be of a "divisive nature" to the party passed 40-22-4 abstain.

Resolution that the Maine State Republican Committee has "No Confidence" in Jan Staple's ability to represent Maine "in a fair and professional manner" passed 40-22-4 abstain.

Resolution formally requesting Chair Charlie Webster to remove Staples immediately from the Rules and Bylaws Committee passed 37-22-7 abstain.

Committee members acted in an orderly and dignified manner, although Webster had a uniformed Waterville PD officer wearing leather riot gloves stationed in the back of the meeting room and two officers on the sidewalk outside!

Several attempts by pro-Webster members to adjourn without votes were defeated by significant voice votes.

One person was outside the meeting with a sign reading, "MAINE GOP...GRASSROOTS UP NOT TOP DOWN!"

Channels 8, 13 and 23 and a print reporter were outside the meeting room and did interviews on the sidewalk.

The next regularly scheduled meeting of the State Committee is Nov. 10, the Saturday after Election Day. The only other regularly scheduled meeting in 2012 is on Dec. 1, which is election of State Chair, Vice Chair, Secretary and Treasurer."