By Peter Hamby
Thu April 24, 2014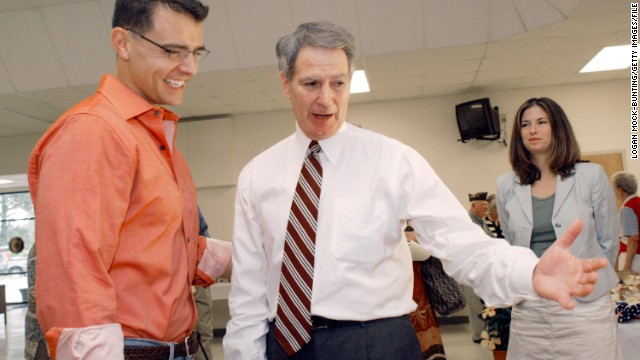 Buxton, North Carolina (CNN) -- The wind is whipping up as Taylor Griffin stands on a tiny sliver of sand on Cape Hatteras on a recent afternoon, listening to a family whose entire livelihood might soon tumble into the sea. The Atlantic Ocean is just a few feet away, and high tide is coming in. These are the waves that have been steadily eroding one of the country's most storied beaches for a generation, threatening a pencil-thin stretch of barrier islands, the Outer Banks, that produce hundreds of millions of dollars in yearly tourism revenue for the state.
Carol Dawson and her son, Jeff, own several businesses here, including the Cape Hatteras Motel, an oceanfront structure propped up by wooden beams and, these days, piles of sandbags. The Dawsons complain that the federal government — mainly, the National Park Service and their congressman, Rep. Walter Jones — have abandoned them. Their beaches haven't been nourished in decades, crucial access roads have been breached by hurricanes, and endangered sea turtles are offered more protections than the 4,000 or so full-time residents of Hatteras Island.
"Everyone on this beach, every building on this beach, is one storm away from losing everything," Carol Dawson says.
Griffin is promising to help. "If you have a congressman who is focused on your issues, we are going to be able to resolve these things," he says as his dog, a 2-year old barbet, bounces around in the sand. "A congressman who actually calls the Park Service. If you're on the Resources Committee, you get the chairman to call a hearing, and you drag them up publicly and have them explain themselves if need be. It's time to fight back. And that's what I'm here to do."
A 38-year-old mop-topped bachelor, Griffin is running to unseat Jones, who has represented North Carolina's 3rd Congressional District for 20 years, in the May 6 Republican primary. It's one of the 2014 election's most intriguing primary fights, a face off that doesn't fit neatly into the tea party-versus-establishment narrative that's defined so much GOP infighting over the last four years.
Jones, 71, is an anti-war social conservative with a libertarian streak who regularly bucks his fellow House Republicans on big votes. Griffin is the challenger, a first-time candidate, former Bush administration official and Washington political operative who has the backing of big-spending outside groups. It's a strongly Republican district; the primary winner will likely coast to victory in November.
more:
http://www.cnn.com/2014/04/24/politi...iffin-primary/